We are food lovers and chefs who opened a small restaurant in Bangkok dedicated to our all-time favorite Thai dish - spicy basil stir fry (ผัดกะเพรา known in Thai as pad kaprao).
Easily one of the most popular and loved dishes throughout Thailand, pad kaprao (ผัดกะเพรา) is a combination of stir fried chilies, garlic, protein, and the most essential that distinguishes it from all other dishes - kaprao (holy basil in English).
The Story
Khun Tan (Thai food blogger and manager), Khun Pongthep (designer and actor), Chef Gigg (Chef and Iron Chef Champion), and Mark Wiens (food video blogger, full-time eater) - what we all love and what brought us together is Thai food.
One night in Bangkok, we were or course eating, and we started talking about where to eat the best pad kaprao in Bangkok. This is a very tough question, and we had different answers - like at the stir fry stall on the corner of the road next to my house, or for myself, my mother in law's is the best, because I can order it to the spicy level I love it. But in the end, we all didn't really know where.
That very night, we decided to open a restaurant, and a few hours later, Khun Tan had already come up with the name Phed Mark.
What does Phed Mark (เผ็ดมาร์ค) mean?
Phed in Thai means spicy, and Mark is my name. But it's bit of a play on words because the Thai word for "very much" is Maak. Phed Mark is our name, our slogan, and we are addicted to spicy food!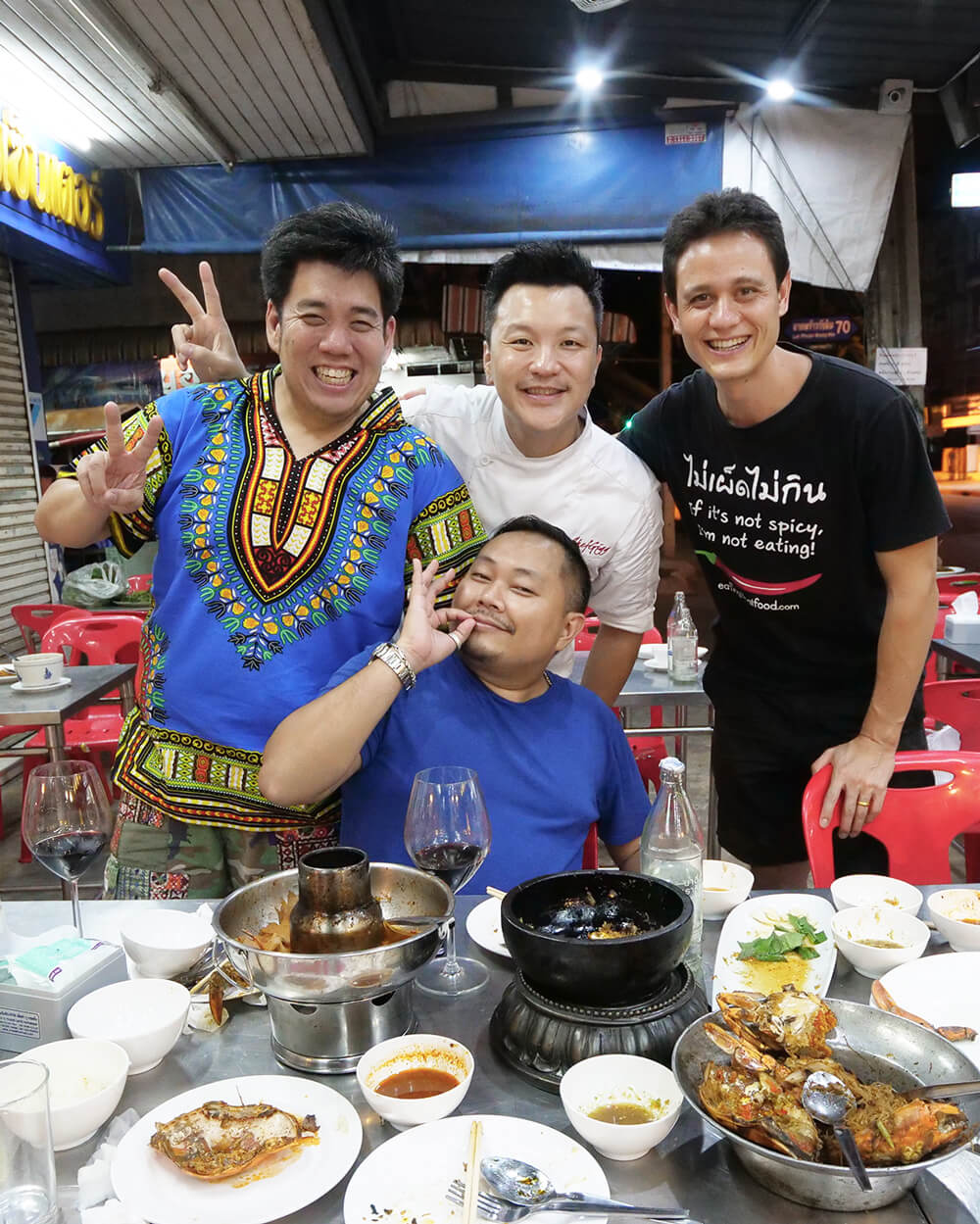 How to find us
Phed Mark เผ็ดมาร์ค is located directly in front of the Ekkamai Bus Terminal, and 1 minute walk from Ekkamai BTS Station. From Ekkamai BTS Station, take exit 3, go down the steps, make a u-turn, walk past the 7-11, and across the street to Phed Mark.
Opening times
Monday

11am - 8pm

Tuesday

11am - 8pm

Wednesday

11am - 8pm

Thursday

11am - 8pm

Friday

11am - 8pm

Saturday

11am - 8pm

Sunday

Closed/dd>